Medieval skulls found in Coventry's Old Grammar School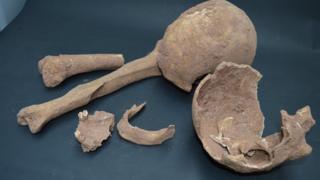 Fragments of medieval skulls and bones have been found during the restoration of a 12th Century building in Coventry.
The bones found in the Old Grammar School are believed to date back to some time between the 12th and 16th Centuries.
The excavation of the Grade I listed building is part of an £8.5m scheme to restore the building and extend the neighbouring Transport Museum.
Experts described the finds as "surprising".
The year-long project, which began in March, will see the building restored for use as an exhibition, education and events space.
It is hoped the finds will go on display in the building when the work is completed.
Julian Marsh, the scheme's architect, said he had been "surprised" by the finds.
"We found them when we excavated the floor," he said. "We found a few bits of bones and skulls, probably from when the building was in use as a hospital."
Dr Cathy Coutts, senior archaeologist with Archaeology Warwickshire, said the dig had also revealed evidence about the building's use as a school.
"Between the floorboards, we found bits of quills, cigarette packets and part of an old chess piece," she said.
"This is a Grade I listed building that's been in use for hundreds of years. There were quite a lot of bones and skulls, including a long bone which you can see has been broken.
"The building was in use between the 12th and 16th Century as a hospital, so we suspect a lot of the bones came from that time."