Royal Fusiliers granted the freedom of Warwickshire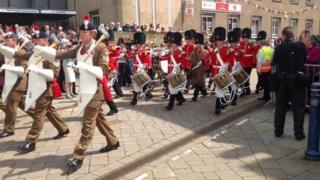 The Royal Regiment of Fusiliers has received the freedom of Warwickshire.
About 150 soldiers from the 2nd Battalion, including a corps of drums and a band, marched through Warwick to celebrate the honour.
Commanding Officer Lt Col Jim Taylor said it was "a great privilege".
The battalion is due to be disbanded to merge with the 1st Battalion in August as part of the government's savings plans to cut the number of soldiers by 20,000.
The 2nd Battalion is currently based in Dhekelia, Cyprus, and has served in every major campaign since 1674, including recent deployments to Afghanistan.
It was also the battalion to which murdered fusilier Lee Rigby belonged.
Warwickshire County Councillors agreed unanimously to award the freedom of the county, which Councillor Brian Moss said was "a clear message of support".
The Royal Regiment of Fusiliers has strong links to Warwickshire and was formed in 1968, amalgamating The Royal Warwickshire Fusiliers, The Royal Northumberland Fusiliers, The Royal Fusiliers and the Lancashire Fusiliers.
Regimental Sergeant Major Dale Jackson said: "Warwickshire is in the DNA of the 2nd Fusiliers. There are many lads from the county in the battalion and we are all very proud of our county's ties with our regiment."
Warwickshire is the second area to grant the freedom of a county to the Regiment of Fusiliers, following Northumberland in 2010.