Coventry City Council Ricoh Arena loan 'irrational and hostile'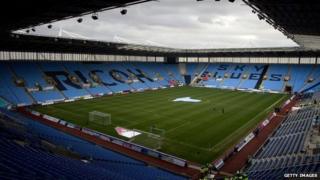 Coventry City Council acted "irrationally" out of "hostility" in loaning £14m to Coventry's Ricoh Arena operators ACL, a court has heard.
In a judicial review brought by Sisu, Coventry City FC's owner, the complainant argued the loan was an unlawful use of public funds.
The council said it had done nothing wrong in supporting ACL amid a rent row between the arena and the club.
A judgement on the review is expected in the week beginning 30 June.
During the three-day review at Birmingham Civil Hearing Centre, Mr Justice Hickinbottom heard details that led up to the football club leaving the Ricoh Arena last year.
The council said its decision to approve the loan in January 2013 "made commercial sense" and that ACL only needed the loan because the football club was withholding rent.
It had "acted decisively and urgently" and believed the bail-out had not distorted competition, the court heard.
Sisu argued the loan broke European laws forbidding state aid for commercial companies.
ACL runs the Ricoh Arena on behalf of the local authority and the Alan Edwards Higgs Trust charity, which co-own it.
In April, a court case between the charity and Sisu ended with neither side winning damages,.
The long-running rent dispute has seen the club play home games at Northampton Town's ground, more than 30 miles from Coventry, since August.