Gas pipe work near Coventry to cause disruption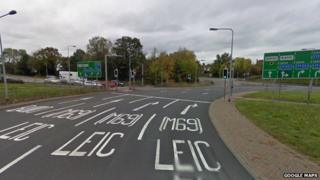 Five weeks of disruption are expected at a busy A-road junction near Coventry while a gas pipe is installed.
The work will be carried out around A45/A46 Tollbar End roundabout, starting on Tuesday.
The Highways Agency said it would be closing lanes at night to reduce disruption.
It said the work was part of a £106m scheme to improve traffic flow and safety around that section of road, which is due to finish by 2017.
The lane closures will be in place between 20:00 and 06:00 at the Tollbar Island to allow National Grid to carry out excavations.
The Highways Agency described the Tollbar End roundabout is one of the most heavily congested junctions in the region at peak times.
When the work is finished it said around 45 percent of traffic would be taken from the roundabout onto a new underpass.
Access to local businesses and Coventry Airport will also be improved, it said.
The project, which was given the go-ahead last year, also involved widening the A45 Stonebridge highway to a 3 lane dual carriageway.