Daw Mill colliery: Plans for business park on site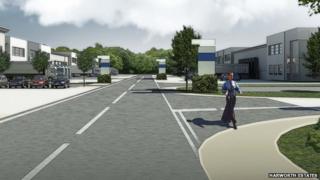 Plans to turn a former coal mine in Warwickshire into a business park have been submitted by developers.
Daw Mill Colliery, near Nuneaton, closed in March 2013 with the loss of 650 jobs following an underground fire. Site demolition began in November.
Owners Harworth Estates have sent plans for warehouses and office units to North Warwickshire Borough Council. It claims 1,400 jobs could be created.
People living nearby have said they are worried about increased traffic.
Ross Jones, who lives a mile away in Over Whitacre, is opposed to the plans.
He said: "We have a road network here made up of all countryside B-roads which are just incapable of dealing with the amount of heavy goods vehicles that will be generated by this operation."
Iain Thomson from Harworth Estates said it had held an "extensive consultation" into the future of the site which included a traffic study.
"We will work with Warwickshire County Council, as the highways authority, on any required junction improvements...but this site is also rail connected and we are encouraging use of that."
The firm said some existing colliery buildings would be retained and a memorial garden would be built to remember miners who had died.
UK Coal announced a full restructuring of its mining operations in July, four months after Daw Mill closed.