Coventry man hands over WW2 rabbit hunting gun in amnesty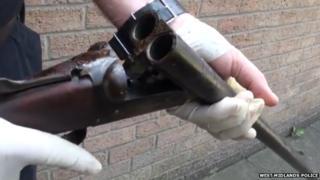 A Coventry man in his 90s has taken advantage of a police gun amnesty to hand over a shotgun he used to hunt rabbits after World War Two.
West Midlands Police's surrender scheme started on Saturday and 28 guns have been handed in so far.
Four revolvers, a silencer and more than 1,000 bullets were handed over after being found in a house clearance.
On 14 July, the maximum jail term for illegal possessing a gun increased from 10 years to life.
West Midlands Police said until 2 August, anyone who surrendered a firearm, including handguns, rifles, BB guns, imitations, ammunition or antiques, could do so without being prosecuted for gun possession.
The force said three of the 28 guns were collected from the homes of elderly residents who may have struggled to make the journey to a police station.
They included the man from Canley, Coventry, who had stored his double-barrelled shotgun in his loft for decades.
He said he had hunted rabbits to supplement his food ration after the war.
Det Insp Andy Bannister said: "That's 28 fewer firearms that could potentially end up in the hands of criminals.
"We've had Webley .38 service revolvers handed in along with starting pistols, flare guns, air rifles and shot-guns."
Police said any weapon handed in would either be destroyed or used in training exercises.