Stratford shop crash: Ex-magistrate banned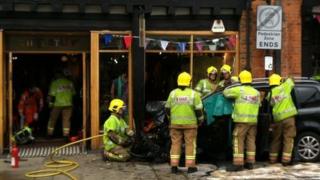 A former magistrate who crashed his car into two shops, seriously injuring two people, has been banned from driving for two years.
Alan Marks's crashed his VW Touran in Stratford-upon-Avon, leaving one shopper with a brain injury and another with multiple broke bones.
The 65-year-old, of Shottery, claimed the car had a mechanical fault which made the accelerator jam.
A jury at Birmingham Crown Court found him guilty of dangerous driving.
As well as the ban, he was given a two-year conditional discharge, ordered to take an extended test and made to pay £1,200.
A Crown Prosecution Service statement said Marks's car had been specially adapted for disabled use but he was not using the adaption at the time of the crash in Henley Street on 23 April 2012.
The conviction comes after Warwickshire Police and Crime Commissioner Ron Ball asked the force to review the case following an initial decision not to prosecute.