Gosford Street revamp in Coventry gets underway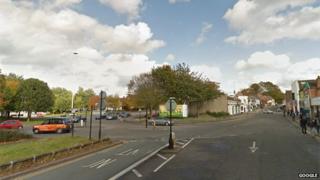 Work has started on a five-month project to redevelop part of Coventry city centre.
The scheme will see changes to footpaths, the road layout, traffic systems and landscaping around Gosford Street.
The first phase of work will see the Far Gosford Street exit closed on the Sky Blue Way roundabout.
A second roundabout will be built at the junction and a series of 20mph limits will be introduced in the area.
Traffic signals on the Gosford Street junction with the Sky Blue Way will also be removed.
Pavements, meanwhile, will be widened and new trees planted.
Councillor Rachel Lancaster, responsible for public services for Coventry City Council, said the regeneration work would create "a more modern link between Far Gosford Street and the city centre" and "an improvement in the potential for investment and new jobs in the city".
The local authority said the changes were designed to improve traffic flow and open up space for new developments.
Vecquaray Street will operate a one way system during the roadworks and the council said diversions would be in place.