Proposal to close Coventry's 50m Olympic pool approved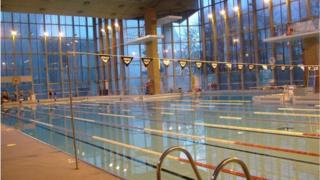 Proposals to close the only 50m swimming pool in the West Midlands have been approved by council bosses.
The sport centre in Fairfax Street, Coventry looks set to be replaced by a £37m leisure centre - featuring a cheaper-to-run 25m pool.
Coventry City Council's cabinet approved the plans at a meeting earlier despite a gathering of more than 60 protesters outside the council house.
The decision still needs to be ratified by full council.
Coventry Swimming Club programme manager and former Olympic swimmer Jo Deakins, who helped organise the protest, said she was disappointed with the result.
"It's not the outcome we wanted," she said.
"But the council said it had looked at all ways of keeping the pool open and has been unable to find a solution fair to tax payers.
"We will regroup and try to work with the council to see how we can move things forward."
More than 11,000 people signed petitions calling for the Olympic-sized pool to be retained.
Mrs Deakins said the pool had produced swimmers including Lutterworth's Lucy Hall, who competed in the Commonwealth Games, and Redditch's Abigail Humphreys, who recently represented Great Britain at the national championships in Portugal.
Among those protesting was office worker and mother-of-two Rachel Mander who said: "The pool is a feature of the city. There is nothing else like it in the area."
Mother-of-one Sharon Newport said the pool had been "instrumental to the success of swimmers across the Midlands."
Meanwhile Stella Johnson, a 68-year-old grandmother from Coventry, said: "When I heard what they were planning I thought 'my life is coming to an end'. I love swimming."
Coventry City Council has said its new leisure centre will have a water park with slides, a fitness suite, climbing wall, squash courts and a spa.
The Fairfax Street centre is due to close and the new facility in New Union Street open in July 2019.
Another 50m pool is due to open at the University of Birmingham in 2016.
Councillors agreed to work with Coventry Swimming Club to explore the possibility of getting a capital grant from Sport England to maintain the existing 50m pool.
Kevin Maton, cabinet member for business, enterprise and employment, said: "It's not the case that the council's not interested in sport because we're investing in new facilities all the time. The question is 'how can we afford to do it?'"