Coventry City FC want Ricoh return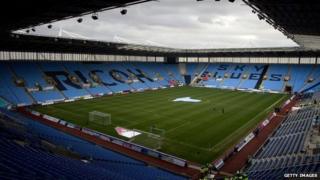 The owners of Coventry City have said they want to negotiate a return to the Ricoh Arena.
It follows a decision by the Football League that the club should pay the firm running the stadium just over £470,000 in unpaid rent.
Ricoh operator ACL welcomed the decision, while Coventry City called for negotiations over a stadium return.
The club has played home games at Northampton Town's ground, about 34 miles away, since August 2013.
Tim Fisher, chief executive of Coventry City, said the Football League ruling cleared the main stumbling block to any negotiations.
He said: "We know that ACL saw the payment of this money as a barrier to agreeing terms to get the club back to Coventry.
"We can today put this obstacle behind us and get down to the business of negotiating a return to Ricoh Arena until we can own our own stadium.
"As we have said all along we want what is best for the long-term future success of Coventry City FC.
"That means our job is to get the club back to Coventry, which is something every single supporter wants to see, whilst ensuring the financial stability of the club."
Thousands of Coventry supporters have boycotted home games since the move to Northampton.
In a statement, ACL said it "welcomes the decision made yesterday by the Football League.
"However given that matters are not concluded at this time, we currently have nothing further to add".
The football club must pay £471,192 to ACL by 14 August, the Football League said.
It is the latest ruling in a long-running legal dispute between ACL and Coventry City over unpaid rents.
The club recently lost a judicial review after a court ruled a loan from Coventry City Council to ACL, which it part owns, was legal.
On Thursday, Coventry City Ladies Football Club announced that the stadium will be its home for the 2014/15 season.
The club said a deal has been sealed for it to move from its current base at The Oval in Bedworth, around a mile away.