Coventry City pay £470,000 rent bill to Ricoh owners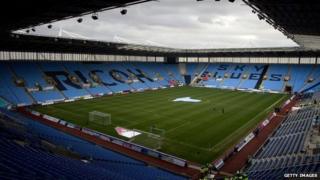 Coventry City Football Club has paid the owners of the Ricoh Arena £471,192 in unpaid rent.
Earlier this month the Football League ordered Coventry to pay the stadium's operator, ACL, by 14 August.
In a statement on its website, the club confirmed it had forwarded payment to the Football League.
The League One club previously said the outstanding debt was seen as the biggest obstacle to a return to its former home ground.
The Sky Blues have played all their home games at Northampton's ground, about 35 miles away, since August 2013.
Fans staged a protest in the 35th minute of Wednesday's Capital One Cup clash with Cardiff City against the long-running stalemate between ACL and the club.