On-the-run human trafficker Vladimir Ismaili jailed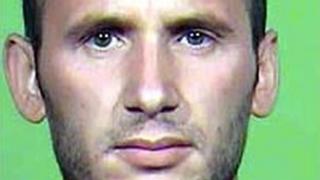 A man who forced two Lithuanian women into prostitution and blackmailed them but then disappeared before his trial in 2006 has been jailed.
Albanian Vladimir Ismaili, 40, formerly of Harnall Lane, Coventry, was part of a trafficking gang and sentenced to 14 years in his absence eight years ago.
He was apprehended in Greece in June and escorted to the UK.
Appearing at Manchester Crown Court on Wednesday, he was jailed for a further 172 days for failing to attend court.
Contacted relatives
He and six others were convicted of sex trafficking, causing prostitution for gain and blackmail at the same court in December 2006.
The two victims, from separate villages in Lithuania, said they were told they could make money in England by working in bars or as cleaners.
But they said they were driven to a hotel in Coventry and separated before being forced to work as prostitutes there and in Manchester.
One woman was raped by one of the defendants, the court heard.
She managed to alert relatives who called Lithuanian authorities leading to the arrest of Ismaili and an associate.
'Very serious crime'
The six defendants jailed in 2006 were given sentences varying between three and 11 years.
But Ismaili went missing in September 2006, three months before his trial, sparking a manhunt involving officers from Warwickshire Police, Greater Manchester Police, Lithuanian police, the National Crime Intelligence Service and the National Crime Squad.
He was finally arrested in Greece and brought back to the UK earlier this month, Warwickshire Police said.
He will serve the 172-day sentence in addition to the 14 years.
Det Supt Stuart Hinton, one of the investigating officers, said: "The fact that Ismaili was sentenced to a 14-year prison sentence demonstrates the seriousness of his crimes and his role within the gang.
"He has now been returned to the UK to serve the sentence handed to him for these very serious crimes and to face justice."