Warwickshire Police defends low officer response figures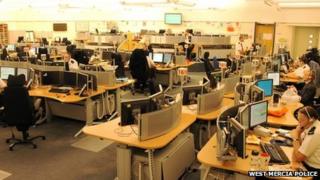 Warwickshire Police has come bottom in a league table showing how often forces send an officer to a crime scene.
The report by HM Inspectorate of Constabulary (HMIC) showed the force attended 39% of crime scenes.
The national average for the 24 forces who provided data was just under 80%.
Warwickshire's Police and Crime Commissioner Ron Ball said the force had to "use the resources we have intelligently" by prioritising which calls officers were sent to.
"We investigate 100% of crimes that are reported in Warwickshire - what this is about is how we choose to investigate them," he said.
"What we are doing is using the ever diminishing resources that we have to do the best we can to deal with those at risk of harm."
'Self-policing'
HMIC said nationally criminal damage and car crime were "on the verge of being decriminalised" because forces had "almost given up".
In some cases it said victims were asked to check for CCTV or fingerprints.
Lynne Price, from Neighbourhood Watch in Bedworth, said they were often "self-policing" by gathering evidence.
"The resources are getting less and less at the police force and it's coming down to the neighbourhoods to look after themselves," she said.
Warwickshire Police's Deputy Chief Constable, Lewis Benjamin, said public confidence and satisfaction rates were "very high" and crime was "reducing year on year".