Warwickshire fire appliance cuts in three towns could be scrapped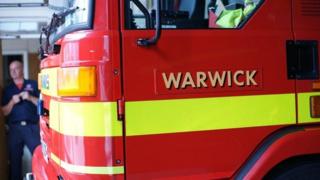 Plans to halve the number of fire appliances in three Warwickshire towns could be scrapped.
Nuneaton, Leamington Spa and Rugby were each due to lose one appliance as the fire service tries to save £2.4m over the next four years.
Chief Fire Officer Andy Hickmott said that after talking to the public and the unions he will recommend the three towns keep their second appliance.
A public consultation on the proposed cuts ended in July.
"We did consider the location of fire crews, especially the number we located within the urban towns compared to the number we proposed to locate in more rural areas," he said.
He said the change will have to be approved by the county council's fire authority.
Marcus Giles, from the Fire Brigades Union, welcomed the decision, which he believes comes in response to public concerns.
"In main urban areas there's obviously a higher population where there is more life risk, so that's where the second pump should be," he said.
Mr Hickmott said the service still planned to cut the number of full time firefighters by 30.
"We don't believe we will have to make any compulsory redundancies and I think that's a good news story," he said.
The union said it was still concerned that some crews could be cut from five to four, and that 24-hour shifts could be introduced at some fire stations.