Coventry seeks city-wide ban on illegal traveller sites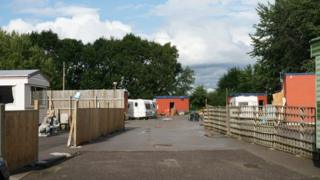 Travellers could have property seized if they illegally move on to council land in Coventry, if new measures are agreed.
The city council said it wanted a "blanket ban" injunction covering the whole city.
If it goes ahead, officers will be able to seize and sell vehicles to cover the authority's legal costs when they move travellers off sites.
Leeds City Council implemented similar measures in July.
There, six environmentally sensitive areas of land in the city are covered by an injunction.
Deputy leader of Coventry City Council, Phil Townsend, said: "What we'd prefer is a city-wide blanket ban which would preclude traveller sites being set up anywhere on council land within the city.
"It's unlikely, we think, because of things like the Human Rights Act that the court would be prepared to do that, but it might consider an application that identified up to 100 of the most vulnerable sites."
He presented the idea at a Coventry Police and Crime Board meeting on Thursday.
Coventry City Council provides one legal site for travellers, on Siskin Drive near Coventry airport. It operates a waiting list for its 22 pitches, which have been occupied since the 1980s.
Mr Townsend said: "We are a tolerant city and people are kind in this city, but I think there is a point where any one of us says 'enough is enough' if our hospitality is being abused."
Michael, a traveller staying illegally on council land, said: "We don't cause them hassle. We keep ourselves to ourselves and try to do everything by the law."
Travellers have been moved on from six illegal camps in Coventry this year, at an estimated cost of £5,000 for each eviction.