Brinklow war memorial dedicated to 25 fallen soldiers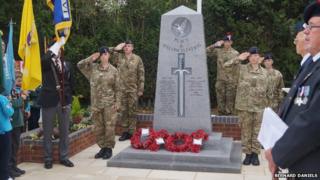 A Warwickshire village has dedicated its first memorial to soldiers who died in the two world wars.
The 3m (9ft 10in) granite obelisk lists the names of 25 servicemen from Brinklow who lost their lives.
Members of a now closed British Legion branch and other village volunteers raised the £8,000 needed.
Tony Super, chair of the memorial fund, said: "I'm overwhelmed by what people have done and how generous they have been with their time and money."