Coventry leukaemia toddler receives US cell transplant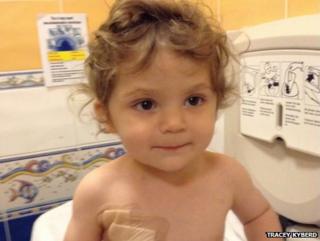 A 19-month-old boy from Coventry is recovering after receiving blood cells from America that could save his life.
Khalid Adam, from Cheylesmore, has a rare type of blood cancer and was told by doctors this summer he had only six weeks to find a donor.
This week suitable blood cells from the umbilical cord of a newborn baby in the US were donated.
Doctors are now monitoring Khalid's reaction to the transplant at Birmingham Children's Hospital.
His mother, Tracey Kyberd, said: "He was sick a lot, he's on anti-rejection drugs, he's had a bit of a reaction with a swollen face but so far doctors are happy with his progress.
"We've got a long way to go yet but thanks to this amazing person in Cleveland, this could possibly save his life."
She said Khalid was healthy until suffering suspected pneumonia at four months, followed by a lump and blisters which led to a diagnosis of Acute Myeloid Leukaemia last year.
'New immune system'
He underwent chemotherapy, but in July a check-up showed the cancer had returned.
His second chemotherapy course caused a hole to develop in his heart and doctors said a blood cell transplant was urgently needed.
Elizabeth King, from the Anthony Nolan Trust, said: "The blood from umbilical cords is rich in potentially life-saving stem cells, which will create a new immune system for him."
She said people from non-white backgrounds had a poorer chance of finding a suitable donor.
Khalid is mixed race and the cells he received were an 80% match rather than the 100% ideal.
His family hopes to meet the donor when her identity is revealed. In the meantime they are campaigning to get more non-white donors on the bone marrow register.