'Noxious gas' closes Coventry's Pool Meadow bus station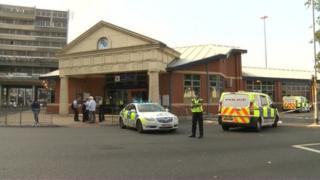 A chemical incident which closed a bus station is thought to have been caused by noxious gas from a cleaning fluid.
People became ill after entering toilets at Coventry's Pool Meadow bus station, which was shut for more than two hours from about 14:50 BST.
A man in his 60s was taken to hospital, but his condition was not considered to be serious.
Three other people who reported sore throats, runny eyes and nausea were treated at the scene.
A police spokesman said: "Initial indications suggest cleaning fluid has caused the release of a noxious gas which has led to several people suffering from a sore throat and sore eyes."