Coventry ring road bike ride draws thousands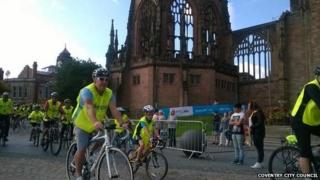 Thousands of cyclists have taken part in a bike ride around Coventry's ring road.
The anti-clockwise section of the road was closed to traffic to create a 3.7 mile (5.5km) route around the city.
Earlier this week Coventry marked the 40th anniversary of the road's construction.
Councillor Rachel Lancaster said the Sky Ride event was a chance for people to get a "new perspective on the ring road".
About 2,500 people signed up for the bike ride, with more joining on the day.