Coventry's Lady Godiva angry at Belgian chocolate claim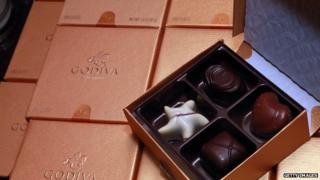 Coventry residents say the city's "rich heritage" is under threat, after a Belgian chocolate company claimed exclusive rights to the Lady Godiva name and image.
Lawyers from Godiva Chocolate have warned the Lady Godiva pub, in Geneva, it breaches its intellectual property.
The company said it had a "unique reputation" to protect.
The medieval Lady Godiva legend was set in Coventry. The city's reigning Godiva said the claim "seemed like greed".
'Morally wrong'
Pru Porretta is responsible for reviving Dame Goodyver's Daye, in September, in which she takes on the role of the famous naked horsewoman in a procession through the city's streets.
"I think it's very sad," she said.
"Godiva was a great woman who challenged her husband to stop the terrible things that were happening to the people.
"I'm sure Lady Godiva wouldn't care for a company which seems to be taking something that wasn't theirs originally and want to use it for themselves and nobody else.
"It's about our rich heritage. I would say it's morally wrong."
Glen Simons, who owns the Lady Godiva pub in Geneva, which is at the heart of the dispute, said he had received three letters from the chocolate company, with the final one asking him to "cease and desist" using the Godiva name.
"It's come totally out of the blue," he said. "We do want to fight this, but it's amazing they were ever granted a trademark for this."
Lisa Ross, senior administrator at Coventry's 14th Century Guildhall, which has a Godiva cafe, said the chocolate firm had not contacted them about changing the name.
"It's been the Godiva cafe for years - because it's based here in Coventry," she said.
Intellectual property lawyer Christine Jackson said she doubted the company would be able to stop Coventry from celebrating the name of the legend.
"But if there was another party that used the name and the image on, for example, the sale of chocolates, then that would be something they could have a claim for," she said. "The claim would only be based on the narrow number of classes for which they have a registered trademark."
Who was Lady Godiva?
Lady Godiva was the wife of Leofric, the Earl of Mercia, one of the most powerful noblemen in 11th Century England.
The earliest surviving source for the legend is the chronicle of Roger of Wendover, written more than a century after Godiva's death.
According to this account, Leofric became so exasperated by Godiva's endless appeals to reduce Coventry's heavy taxes he declared he would do so if she rode naked through the crowded marketplace.
She did so with her hair covering all her body, except her legs.