Coventry's Cathedral Lanes sold for restaurant refit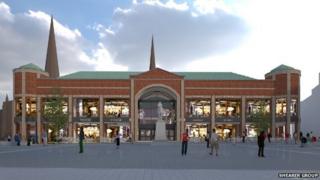 The Cathedral Lanes shopping centre in Coventry has been sold to become a restaurant and bar quarter.
London-based Shearer Property Group paid about £5.5m in a deal announced late on Thursday.
It plans to replace the building's brick cladding with glass and add a second floor balcony facing Broadgate.
Developer Guy Shearer described Cathedral Lanes as "a defunct 25-year-old shopping centre that has been left largely vacant".
He said: "The existing building looks appalling at the moment, but it's only a concrete frame with brick cladding.
"If you take that away and create a first floor balcony so people can sit out it creates an ideal opportunity for a restaurant venue."
Councillor Ann Lucas, leader of Coventry City Council, said the plans will "breathe new life into the city centre".
"We know how much Coventry people want to see changes to Cathedral Lanes," she added.
The Shearer Property Group's previous developments include the Southgate Centre in Bath, the Grand Arcade in Cambridge and the Dickins & Jones department store in London.