St John the Baptist Church in Coventry targeted by vandals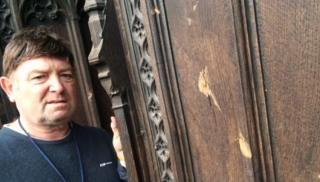 More than £10,000 damage has been done by vandals at a historic grade-I listed church in Coventry.
The culprits used a boulder from outside St John the Baptist Church to deface the oak front door.
A large stained-glass window and at least two smaller windows were also smashed in the attack late on Monday afternoon.
The building, at the corner of Spon Street, is almost 700 years old. Police are investigating.
'Close to tears'
Cam Morgan, the church's events officer, said staff "felt sick" when they found the damage.
"A lot of us were close to tears," she said.
"It's not just a beautiful building but as a church it's a sacred place."
The church was mentioned in a document dated May 1344 in which King Edward II's widow granted the land for building a chapel in honour of St John the Baptist.
Ms Morgan said the repairs would cost the church at least £10,000.
Mike Polanyk, the church's visitor coordinator, said the damage was "something we could have really done without."