Knitted poppies on trees at Coventry War Memorial Park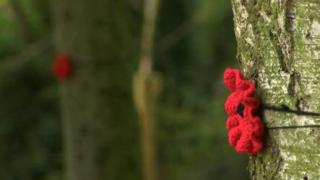 Hundreds of knitted poppies have been attached to trees in a memorial park in Coventry.
Members of the city's Women's Institute (WI) have knitted 600 poppies for the city's War Memorial Park.
Jo Byrne, from the Earlsdon WI, said: "We've put these around trees to help people to think of what the past has given them."
The park opened in July 1921 as a tribute to the soldiers from the city who died in World War I.
In July, Prince William dedicated the park as a Centenary Field, the first of 500 areas to be awarded special status to commemorate the 100th anniversary of the Great War.
War Memorial Park
Was built on what was once part of Styvechale common
Opened in 1921
The war memorial, which is 90ft (27m) high, was dedicated in 1927
It is the largest park in Coventry
There are landscaped gardens and sports areas
It hosts the annual Godiva Festival