Jobs promise for former Daw Mill coal mine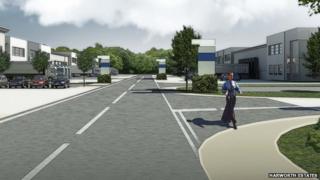 Up to 1,000 jobs could be created on the site of the former Daw Mill colliery, according to developers.
The north Warwickshire mine closed in March 2013 with the loss of 650 jobs after an underground fire.
Initial plans to redevelop the site were withdrawn last month after concerns from residents over traffic.
Harworth Estates has submitted new proposals for a smaller business park and said it took into account the views of the local community.
Chief executive Owen Michaelson said the new plans would reduce "the size of the development by a third from our original application" and "reduce movements by heavy goods vehicles to and from the site by more than 70%".
"We want to make best use of Daw Mill's assets - its railhead and its high power supply - to attract end users that will move goods via the connection to the Nuneaton to Birmingham line," he said.