Sir Frank Whittle's workshop is saved from demolition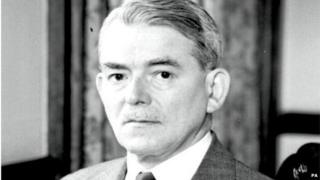 A workshop where the inventor of the jet engine began his early work has been saved from demolition.
Sir Frank Whittle's workshop, in Leamington Spa, in Warwickshire, had stood empty since 2006. It was bought by a building firm which planned to knock it down and redevelop the site for refuse storage.
However, history professor Richard Beacham stepped in to buy it.
Warwick District Council confirmed the building had been saved.
Professor Beacham, professor emeritus at King's College London, lives next door to the workshop on Clinton Street, and said he felt "dismayed" when he heard last year permission had been granted for the building to be demolished.
"It's very likely it would have been lost," he said.
"I went to the developers and asked if they would be interested in selling it to me.
"It could no longer be used as a workshop - because it is now in the middle of a residential area and there are noise restrictions - so I asked the council for permission to restore it and convert it into a house."
Professor Beacham said the workshop was bought by Sir Frank's father, Moses, in 1916 when the family moved to Leamington Spa.
"Frank, then aged nine, both lived and worked in it," he said. "It was a tool-making shop, known as the Leamington Valve and Piston Ring Company.
"Frank worked alongside his father and there acquired the beginnings of a technical expertise that later would lead to his invention of the jet engine."
He described Sir Frank as, "the greatest aero-engineer of the 20th Century" and said historical groups in Leamington Spa were now leading tours to the workshop. Sir Frank's son, Ian, has also visited the property.
One of the jet set
Sir Frank Whittle was born in Coventry, the son of a mechanic.
He joined the Royal Air Force as an apprentice in 1923. While still a cadet, he began looking at ways planes could fly at higher altitudes, where air resistance is much lower, in order to achieve long ranges and high speeds.
Piston engines, which were used in aircraft at the time, were unsuitable for this, so Sir Frank decided to use a gas turbine.
In 1935, he secured financial backing for his plans and the first test flight was made in 1941.
Professor Beacham, who spent about £270,000 buying and converting the property, plans to let it to tenants.