Midlands is "miles" behind the North in devolution race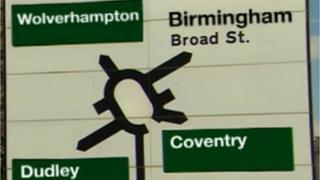 The West Midlands is "miles" behind the North in the devolution race, according to a council leader.
Ann Lucas, Labour leader of Coventry City Council, made the comments when asked whether Coventry would join the proposed "super council" alliance between Birmingham, Walsall, Sandwell, Wolverhampton and Dudley authorities.
Ms Lucas said Coventry was "flattered" to be asked.
However, other West Midlands councils said they were "uneasy" about the move.
'Piddling little authorities'
Those behind the proposed "super council", announced on Friday, describe it as "a tier over the separate councils with a link to government" with "no extra cost and no extra politicians".
They say the business of local government, including elections and setting council tax rates, would be unchanged.
Ms Lucas said she looked forward to having a "grown-up discussion" with the authorities behind the super council about the prospect of Coventry joining them.
She said it was important Coventry considered the plans carefully because it could be at risk of missing out on funding.
"Westminster has made it clear piddling little authorities aren't going to win the biggest share of the billions that are coming out of central government," she said.
"When you look at Greater Manchester and Yorkshire, you can see the North are miles ahead of the Midlands on this. They have already had these grown-up conversations and that's what the Midlands needs to do.
"Coventry will always be Coventry, regardless of whether it is involved in the alliance or not."
Stoke-on-Trent City Council said it was "100%" behind regional devolution but it had close ties with both the Midlands and Manchester.
Staffordshire County Council's leader Philip Atkins said it was watching the developments "with interest".
"I am uneasy at any prospect of adjacent local areas losing significant direct responsibility and accountability in exchange for consultation and influence, for instance on transport or housing, to any kind of authority beyond their borders," he said.
"We will remain focused on what matters most to Staffordshire people."