Peugeot Citroen in Coventry to cut 90 jobs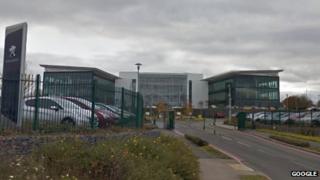 PSA Peugeot Citroen has said about 90 jobs are to be lost at a site in Coventry - not 150 as initially feared.
A spokesman for the firm said it hoped to achieve the reductions at the Pinley House base through voluntary redundancies.
Workers at the Tile Hill site would not be affected, the company said.
Unite said on Saturday it understood 20% of workers at both sites, which employ about 750 workers, would go.
'New company objectives'
"They had not indicated that Tile Hill was out of the equation," said Unite regional secretary Gerard Coyne.
"That's news to us. It gives us hope. We would have liked them to have clarified that from the start."
Peugeot said the 90 cuts would be split between Peugeot UK, Citroen UK and PAS Peugeot Citroen workers at Pinley House.
Company spokesman Andrew Didlick said: "This is part of a Europe-wide restructuring programme.
"We're taking the company forward and we have to restructure to keep the company competitive."
Mr Didlick said the firm had not decided what would happen if the cuts could not be achieved through voluntary redundancies.
Peugeot closed its manufacturing plant at Ryton in Warwickshire in 2006, with the loss of more than 2,000 jobs.