Complaints close Christmas Magical Journey attraction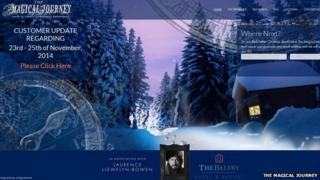 A Christmas attraction designed by celebrity designer Laurence Llewelyn-Bowen has closed after one day due to hundreds of complaints.
Some customers branded The Magical Journey, which opened on Saturday, a "rip-off" and "unfinished".
The attraction at the Belfry, near Sutton Coldfield, had been billed as a "snow-covered winter wonderland".
Event director Paul Dolan apologised and said preparation had been "severely hampered" by recent torrential rain.
"It's clear to us now that we should have postponed the opening," he said, "but we didn't want to disappoint those families already booked.
"That was the wrong decision and we apologise."
Hundreds of messages were posted on the Magical Journey's Facebook page after it opened.
'Not so magical'
A number of users complained about the price of admission - the top price for a child is £22.50 - and accused the management of misleading the public.
Matt Freeman wrote: "I could have cobbled something together better than this in my own back garden for half the cost."
Ben Harvey said he had visited on Saturday afternoon and there had been a lot of waiting around.
"The advertised pictures are very different from what you see or do, in the not so magical journey!" he wrote.
"I don't think it is worth half the money we paid."
Some users encouraged others to give the Magical Journey "a chance" and to reserve judgement until it re-opened.
In a post on its website, organisers announced the attraction would close for three days for improvements and changes to be made.
Anyone with reservations on days affected by closures would be entitled to a refund or offered a rescheduled visit, they said.
"We have also had difficulty with torrential rain on site affecting the lighting and sound. We have people working to repair this damage," they said.
Refunds were also offered to anyone who has already visited the event.
---