Taxi 'refused' to pick up autistic man outside Coventry nightclub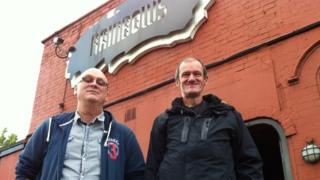 A man with autism claims he was refused a taxi ride outside a nightclub because the driver thought he was drunk.
Trevor Bott tried getting a cab after leaving Rainbows nightclub in Coventry.
A club security guard told the driver Mr Bott was autistic but he still refused to take the fare, Mr Bott said.
Harvinder Gata-Aura, chairman of the Unite branch of Coventry taxi drivers, said: "We're really sorry on behalf of all the taxi drivers. It shouldn't have happened."
He said the union hopes to find the driver responsible and "speak to him".
Mr Bott said he accepted people with autism have a "particular kind of vocal sound" that can make them sound like they are drunk.
"I'm just really angry because at the end of the night or in the early morning you just want to get home," he said.
'One bad apple'
Mr Bott, who has been going to the club in the Parkside area for 10 years, said he did eventually manage to get a taxi home after the incident at about 02:20 GMT on 23 November.
Rainbows' manager Gary Joines said he had never seen Mr Bott drink alcohol in the nightclub.
He said he had helped him fill in a complaint form to submit to the licensing committee at the city council.
"It's not to get this guy to lose his licence or get him disciplined - people just need to be aware you can't treat people this way," he said.
Mr Gata-Aura said: "Just because there is one bad apple does not mean we are all bad."
A spokesperson for Coventry City Council, who license hackney cabs, said if there is a case to answer its options range from putting a letter on the driver's file to a suspension of the licence.