Coventry kidnap gang cut off man's finger to get £20,000 ransom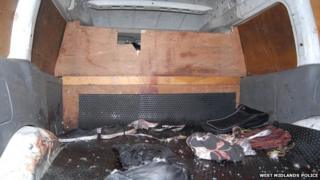 Three men who cut the finger off a Coventry man to get a £20,000 ransom have been found guilty of kidnap.
The 26-year-old victim was kidnapped at gunpoint in Milverton Road, Woodend in September last year, police said.
Ralph McLeod, Lewis Poyser and Yusuf Akbar were found guilty of false imprisonment, blackmail and grievous bodily harm at Warwick Crown Court.
They will be sentenced on 23 January, along with seven other men who pleaded guilty at earlier hearings.
McLeod, 37, and Poyser, 24, of Belmont Road, Coventry, and 33-year-old Akbar, of Wynn Street, Edgbaston, had pleaded not guilty to the charges.
Det Ch Insp Simon Wallis, from West Midlands Police said: "The family were understandably distraught at the thought of what else could happen to their loved one and immediately paid a ransom of £20,000."
The victim's 31-hour ordeal included being severely kicked and beaten with a metal bar, police said.
After the ransom had been paid he was thrown out of the back of the van in McDonnell Drive, Coventry.
Police said the money was recovered after they raided a house in Dovedale Avenue, Longford.
Seven other men had pleaded guilty to charges including kidnapping, blackmail, false imprisonment, and grievous bodily harm at earlier hearings.
Kofi Poyser, 23, of Dovedale Avenue, Coventry
Kadeem Poyser, 31, of Browning Road, Coventry
Ricardo Grant, 24, of Watcombe Road, Henley Green, Coventry
Lamar Grant, 26, HMP Leicester
Jermaine Campbell, 24, of Whyatt House, Coventry
Anthony McLeod, 34, of Sycamore Road, Coventry
Ismaeel Akbar, 32, of Kingsbury Road, Tipton