Daniel Pelka's mother and stepfather lose appeal bid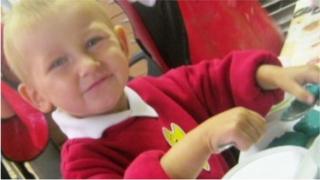 The mother and stepfather of Daniel Pelka have lost a bid to challenge their life sentences for starving and torturing the four-year-old to death.
Magdelena Luczak and Mariusz Krezolek were jailed for at least 30 years in August 2013 for the murder of Daniel in Coventry.
The Court of Appeal, in London, upheld the sentences, describing Daniel's suffering as "heartbreaking".
Former soldier Krezolek also lost an appeal against his murder conviction.
'Cruelty and brutality'
The couple had claimed their sentences were "excessive" but Lady Justice Hallett said the trial judge was "fully entitled to treat this as one of the most serious offences of murder to come before the courts".
The three appeal judges described the application by Krezolek against his conviction as "unarguable".
"That anyone could treat a child this way is incomprehensible. That his mother and stepfather could is beyond any belief and understanding," said Lady Hallett.
"In the context of weeks, if not months, of sustained cruelty designed to cause suffering to a four-year-old child, culminating in that child's death, in our judgment, a lack of intention to kill adds very little by way of mitigation.
"Both applicants were plainly far more concerned about their own future and their own responsibility than about getting help to a dying child."
The pair, originally from Poland, were convicted of murder after blaming each other for the head injury that ultimately caused Daniel's death.
During the original sentencing, the judge at Birmingham Crown Court said "unimaginable acts of cruelty and brutality" were inflicted on the child.
Daniel weighed just 1 stone 9lbs (10kg) when he died in March 2012.
During his final months, he was denied food, forced to perform punishment exercises, confined in a locked box room, poisoned with salt, and subjected to water torture.
A serious case review, ordered in the wake of Daniel's death, found a number of agencies had missed chances to help him.
It found Daniel was "invisible" at times and "no professional tried sufficiently hard enough" to talk to him.