Coventry city centre fire causes 'extensive' damage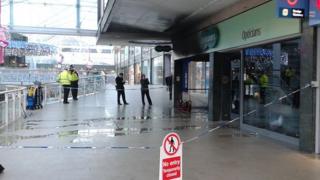 A fire at Coventry's Lower Precinct shopping centre has caused "extensive damage", retailers have said.
About 30 firefighters were called to the scene at around 07:40 GMT to deal with the blaze in the Specsavers shop.
West Midlands Fire Service said one firefighter had been taken to hospital with "heat stress".
Staff at Specsavers said the fire, which was discovered by a cleaner, was believed to have been started by showroom lighting.
The shopping centre is open but Specsavers has been closed and remains cordoned off.
'Completely black'
Group commander Mick Birch from West Midlands Fire Service said: "The fire is contained to that shop alone but the smoke has percolated through to adjacent shops and up to the three floors of the the city library above."
The library is closed but is said to have "slight" smoke damage.
Mr Birch said the fire investigation team was looking into the cause of the blaze and CCTV footage was being reviewed.
Toby Sutton of Specsavers said the damage to the shop was "extensive" and estimated it would need a refit costing "tens of thousands of pounds".
He said: "Lots of the computer equipment and the stock has gone.
"Downstairs is completely black from smoke damage. We expect we will be closed for a few days."
He said only one person had been in the store when the fire started.
"The cleaner was upstairs on the first floor when the fire alarm went off," he said.
"She rushed downstairs to find a significant part of the display was on fire. She left the building immediately and rang the fire brigade but it appears, in just those few minutes, the fire took hold and has caused a lot of damage.
"She's obviously in a little bit of shock, but the main thing is nobody was hurt."