Six people stabbed at The Belfry's New Year celebrations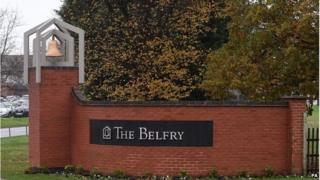 Three men have been arrested after six people were stabbed during New Year celebrations at The Belfry resort in Warwickshire.
Warwickshire Police said they were called to the Bel Air nightclub - a venue within the luxury hotel's grounds - at 00:50 GMT.
Police said one man was in a critical condition following the attacks.
They arrested three men - one aged 26, one aged 22 and one aged 20, all from Birmingham.
Police said when they arrived at the hotel, in Wishaw, near Sutton Coldfield, they found a 21-year-old man with a stab wound to the chest.
He was taken to hospital and underwent surgery but his condition is not thought to be critical.
'Very busy night'
A 26-year-old man was arrested on suspicion of causing grievous bodily harm and a 22-year-old was arrested on suspicion of assaulting another man.
A force spokesman said: "While police were at the scene, further incidents took place, both inside and outside of the nightclub.
"These resulted in a further five people sustaining injuries, believed to be stab wounds.
"Four were taken to hospital and one, a 28 year-old man, is in a critical condition."
A 20 year-old man, from the Birmingham area, has been arrested on suspicion of violent disorder.
The three arrested men remain in police custody.
Supt Adrian McGee said: "This was a very challenging disorder for our officers to control on what was a very busy night for the force."
He added the hotel's management was assisting the police with the investigation.
On its website, the hotel said the Bel Air had recently undergone a £1.2m refurbishment.
The hotel, which has famously hosted golf tournaments such as the Ryder Cup, said its main entrance which was closed for police investigations, had now reopened.