Leicester Tigers advertise at Ricoh Arena, Wasps' new ground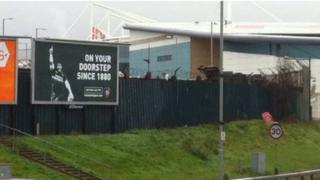 Premiership rugby team Leicester Tigers have put a billboard outside the home of their new Midlands rivals Wasps, suggesting people in Coventry start watching top-flight rugby in Leicester.
The hoarding - which reads "on your doorstep since 1880"- has been placed next to the Ricoh Arena.
Wasps, traditionally a London team who previously played in High Wycombe, moved to the Ricoh in December.
Leicester Tigers said they had a lot of fans in Coventry.
'Overwhelmed and humbled'
Tigers said it was a "conscious decision" to choose that location for the billboard.
A representative said he understood it was put up on Monday.
"The club has a lot of supporters in Coventry and we're keen to remind people we're here," he said.
In a statement, Wasps said: "We're flattered a club like Leicester Tigers has decided to spend money on marketing themselves on our doorstep.
"We'll continue to concentrate on trying to build a fan base in the region; we don't tend to worry too much about what our competitors are doing.
"We've been overwhelmed and humbled by the support we've received since Wasps moved to the region and look forward to welcoming another big crowd to the Ricoh Arena."