Shakespeare's New Place home excavated 'for first time'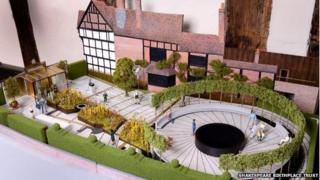 A £5.25m project to excavate Shakespeare's living quarters for the first time has started.
Work began on Wednesday to remove the top soil at the back of Shakespeare's last home in New Place, Stratford-upon-Avon - an area that has never previously been examined.
Although previous digs have taken place at New Place, the Bard's living quarters have never been investigated.
The project is planned to end by 2016, the anniversary of Shakespeare's death.
'Virgin territory'
A dig which began in 2009 uncovered the brew house and kitchens at New Place.
However, the Shakespeare Birthplace Trust, which commissioned the dig, said the areas of the house where Shakespeare lived and wrote had never been researched.
Planning permission for the dig was granted by the council in 2014. The investigation will be carried out by a team from Staffordshire University.
Julie Crawshaw, the trust's project manager, said: "This is a hugely exciting phase in our project to unlock the hidden heritage of New Place.
"In archaeological terms, we are going into virgin territory, although of course the ground may have been disturbed by landscaping and building over the centuries since Shakespeare lived here. Who knows what we will find?"
People are invited to watch the dig in process from Church Street, the trust said.
The archaeological work is expected to be completed in around four weeks.
The project will then see the building of an exhibition centre and a new entrance, and the restoration of the garden at New Place, which is due to be completed for the 400th anniversary of the Bard's death.