University of Warwick protest: Watchdog launches investigation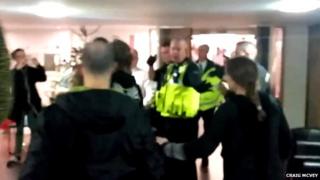 The conduct of officers at a student demonstration is being investigated by the Independent Police Complaints Commission (IPCC) over allegations that "inappropriate force" was used.
The protest, against plans to raise tuition fees at the University of Warwick, was held at the Gibbet Hill campus near Coventry in December.
Students' mobile phone footage showed West Midlands officers using CS spray.
The force referred itself to the watchdog "as standard procedure".
West Midlands Police said the CS spray was used "when it was felt a group was advancing on officers" and admitted a Taser was drawn "as a warning" but not fired.
Warwick Students Union said: "We absolutely believe that disproportionate force was used against protesters."
An IPCC spokesman said it was "investigating the interaction between West Midlands Police officers and students on 3 December 2014 during a demonstration held at Warwick University.
"The investigation is in its early stages and we hope to provide further comment in due course."
The university said it was aware of the inquiry but would not comment until the IPCC's review was complete.