Wasps fan launches poster in Leicester aimed at Tigers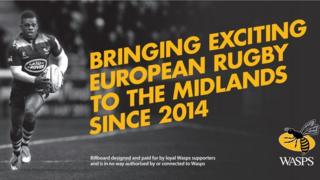 A Wasps fan has used crowdfunding to pay for a poster to promote his team in Leicester, home of rival side Tigers.
The billboard, with the strapline "Bringing exciting European rugby to the Midlands since 2014", is a response to a similar hoarding promoting the Tigers, put up outside Coventry's Ricoh Arena in January.
Wasps, traditionally a London team, moved to the Ricoh in December.
Wasps supporter Edward Marno said his poster was "a bit of banter".
Mr Marno, who works for an online marketing agency in London, said he thought Leicester Tigers' poster in Coventry had been "a bit out of order".
"I don't think they need to come to Coventry and market themselves," he said.
"They haven't done any marketing in Coventry before that, from what I can tell, so we thought we would put out a response.
"I started a campaign a couple of weeks ago and sent it out to Wasps fans so they could donate money towards this and we managed to raise £800 in four days.
"A few of the fans also suggested we add the word, 'European' into the message, just to remind Leicester that we're in the quarter-finals of the European Champions Cup and they didn't make it."
Mr Marno said the poster, which will go up in Leicester city centre, will be displayed for two weeks.
He said he fully supported Wasps' move from High Wycombe to the Ricoh Arena.
"If you look at the seasons the two clubs are having, Wasps are definitely in the ascendency, whereas Tigers - you can't really say the same thing."
At the time Tigers ran the billboard outside the Ricoh the club said it had been a "conscious decision" to choose that location.
"The club has a lot of supporters in Coventry and we're keen to remind people we're here," the club said.