Arrest after brick smashed police car windscreen in Coventry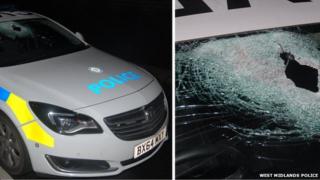 A man has been arrested after a large brick was thrown from a bridge, injuring two police officers as it smashed through their patrol car's windscreen, police have said.
The officers were driving along Coventry's ring road when the stone was thrown late on Sunday.
Both suffered facial injuries.
A 44-year-old was detained in the Hillfields area of the city on suspicion of causing grievous bodily harm, West Midlands Police said.
Det Insp Stuart Bell said: "We continue to look for a second suspect who we believe was on the bridge when [the alleged incident] happened and was also involved."