Ricoh Arena police dig operation enters third day, say West Midlands Police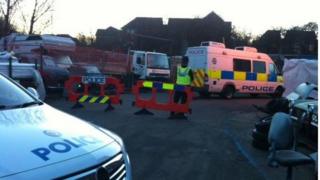 Police say they are set to embark on the third day of an excavation of land at an industrial estate near the Ricoh Arena in Coventry.
Officers are digging in an area off Hales Industrial Estate on Rowleys Green Lane, Foleshill.
West Midlands Police said the force was acting, "on information recently received from a member of the public".
"It is not believed the excavation is connected to any ongoing investigation at this point," the force said.