Coventry Canal Basin bridge removal plans spark safety fears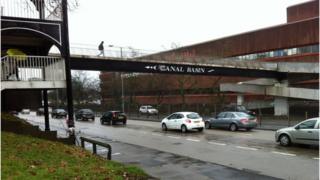 Plans to replace plans to replace a ring road footbridge with a pedestrian crossing have sparked safety concerns among residents.
Coventry's Canal Basin bridge is set to be removed in a £7.5m scheme to improve access to the city centre.
Residents say they are concerned people could be "seriously hurt" if they have to cross Coventry's busy ring road via a toucan crossing.
But the city council said a crossing would be "just as safe" as the bridge.
The scheme, which is being funded by a European grant, would involve a redesign of junction one of the ring road, incorporating a new toucan crossing and the removal of the bridge.
However, resident Peter Frost said the ring road "works fine as it is".
"It's one of the safest roads in Coventry," he said.
"As soon as they put a crossing on there, people are going to get impatient, they are not going to see people crossing and somebody is going to get seriously hurt."
'Good safety records'
Mr Frost, a driving instructor, has started a petition against the redesign which has attracted 280 signatures.
However, Rachel Lancaster, Labour cabinet member for public services, said the footbridge was not accessible to everybody, including people in wheelchairs.
"Pelican and toucan crossings are safe," she said.
"We have instances in the city where we've got five and six lanes of heavy traffic with similar crossings and we have very good safety records.
"Ideally, what we'd love to do is put an underpass in but that would cost us another £8m and it's just not feasible."
She said she would "weigh up the concerns" of people who objected to the scheme but she believed the new crossing could help regenerate the area.
"We want to bring people out to the Canal Basin and revitalise that area," she said.