Coventry protestors march against proposed city council cuts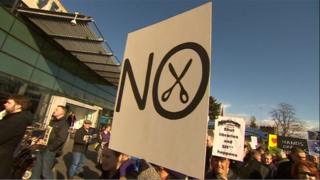 Hundreds of protesters have marched through the centre of Coventry against city council plans to cut services.
The authority announced earlier this week that in addition to previous money-saving measures, a further saving of £15m would be needed.
Up to 1,000 jobs are at risk, along with cuts to elderly care, libraries and youth centres.
The council said by 2017 funding from central government will be half that of 2010.
A spokesman claimed "the cuts are necessary to reflect the harsh reality of this reduction".
Campaigners marched on Saturday from Millennium Place to a rally in Broadgate.
Coventry Trades Union Congress (TUC) president Darrall Cozens, who helped organise the protest, said: "If you don't stand up and fight for what you've got, you will lose it".