Fire breaks out near Ricoh Arena in Coventry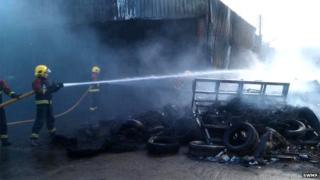 A fire has broken out in a car scrap yard near the Ricoh Arena in Coventry.
Staffordshire and West Midlands Fire Service said a "large quantity" of tyres and scrap vehicles were alight.
The blaze was brought under control and firefighters remained at the scene on Rowleys Green Lane until potential hotspots had been damped down.
A fire service spokesman said: "Assertive and successful fire fighting saved a building and further vehicles from fire".
Smoke blowing across the road caused temporary delays to traffic on Judds Lane, the Highways Agency said.
Eyewitness Ken Wilson was waiting for his bus when he saw the fire, and filmed this video.