Coventry's Blue Coat School 'has £1.4m shortfall'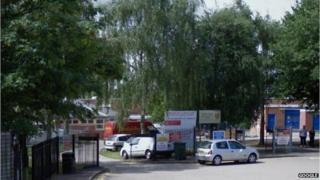 A troubled Coventry academy with a £1.4m shortfall "is not a failing school", the new chair of governors has said.
Blue Coat School has said it is "facing serious financial issues" and has replaced its 18-strong governing body with an interim board of six.
Douglas Tribe, who chairs the interim body, said it was in the process of approving a recovery plan.
He said the jobs of all staff were being looked at.
The school said it had faced "large reductions of income" due to increased costs and the construction of new teaching facilities.
Mr Tribe said the financial situation is "worse than anticipated".
Staff 'reviewed'
The school has received emergency funding from the Education Funding Agency. Its accounts suggest it spends 82% of its income on staffing.
The head teacher, Dr Julie Roberts, is on paid leave and the city council has previously said she "may have to go if it is in the interests of the children".
The school has previously said it would reduce its teaching assistant team from 22 to nine.
However, Mr Tribe said the board was carrying out a review "of all staff".
"If there are people who want to go on a voluntary process, we will honour that," he said. "But we are going to look at all staff, including the three deputy heads and the eight assistant heads, all the way down the line.
"At the moment, I can't comment on the position of Dr Roberts."
'Not failing'
He added one of the school's two financial directors had resigned and they were negotiating a settlement with the other.
The school has been ranked as "requiring improvement" by Ofsted following an inspection in 2014.
"It's not a failing school. Yes, there are financial problems but we look forward to putting the school on a sound financial footing."
Mr Tribe added the council's cabinet member for education, David Kershaw, had been coopted on to the board.
In the past, Mr Kershaw has said the Labour-run council had no jurisdiction over the school because of its academy status.