'World's largest tapestry' restoration at Coventry Cathedral begins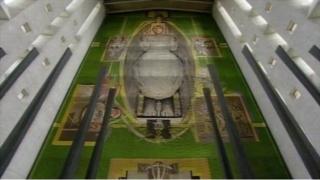 The restoration of what is claimed to be the "world's largest tapestry" has got under way in Coventry.
The tapestry of Christ in Glory, by Graham Sutherland, has hung in Coventry's cathedral since the building was consecrated in 1962.
The £100,000 restoration is likely to take about a month, cathedral staff have said.
The work, which measures 75 x 38ft (23 x 11m) and weighs just over a tonne, is in need of a clean and minor repairs.
It is the largest tapestry in the world made in one piece, the cathedral says.
Scaffolding has been erected across the entire work, to enable textile conservators to gain access to it.
The work was commissioned when Sir Basil Spence, the cathedral's architect, invited Sutherland, an official war artist, to design it.
It is similar in size to a tennis court.
Sutherland worked on the tapestry for ten years. He was influenced by artists such as Rembrandt.
The work shows a number of biblical scenes, including Christ's crucifixion.