Coventry civic buildings sold to university in £125m deal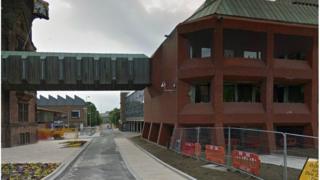 A council has agreed to sell four civic buildings in Coventry to a university in a £125m deal.
The city council said it had agreed to sell the buildings, between Little Park Street and Much Park Street, to Coventry University.
The 4.3 acre site will be developed in 2017 when the council moves into a new headquarters on Friargate.
Coventry University said it planned to demolish the civic centre and replace it with a facilities complex.
'World-class headquarters'
The new building will include an international centre, research facilities and living accommodation.
The university said it would be its "largest and most significant" development since it was founded.
Detailed plans for the site are still to be finalised but the £125m cost includes the selling price, plus the cost of redeveloping the site.
Professor John Latham, the university's vice chancellor, said: "This is a major city centre site, which presents [us] with the... opportunity not only to allow the university to fulfil its potential but also to make a significant improvement to the city centre.
"Not only will it allow us to create several new key buildings it will, just as importantly, give us the capacity to free up and then develop some of our existing sites.
"We will be able to create a truly world-class headquarters."
The council will continue to occupy the buildings until the Friargate site is completed.
Ann Lucas, council leader, said: "We are delighted to have signed this deal and it is a significant moment in the history of the city centre and the university.
"This is a key site and as a local authority we have to be totally comfortable with the way it is developed and to ensure it brings a financial return for the city."