Warwickshire Wildlife Trust to raise £10,000 for peregrine falcon camera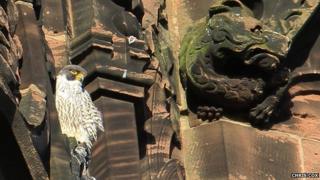 A wildlife trust hopes to raise £10,000 to get a camera trained on two peregrine falcons that have been nesting on a Coventry church.
Warwickshire Wildlife Trust said it wanted to provide a live feed via its website of the birds as they nest on Holy Trinity Church in the city centre.
The project would be similar to one Derbyshire Wildlife Trust set up in 2007 to film nesting birds in Derby.
The trust said the birds were stunning.
'Rare opportunity'
"The peregrines have been sighted [on the church] for several years now," said Emma Richmond, from the trust.
"Last year they had one chick, and we have high hopes for the same or even more this year.
"We are hoping to raise at least £10,000 to buy remote cameras, nesting platforms and nest boxes.
"The hope is to install a live feed on our website, similar to other highly successful projects."
The trust is running an adopt-a-peregrine scheme as a means of raising the funds.
It is also running a number of peregrine watch events throughout the year to encourage people to come into the city and view the birds through telescopes.
"We hope to provide people who may not even know that the peregrines are there with a rare opportunity to see them up close," said Ms Richmond.
"They are a stunning sight."
Derbyshire Wildlife Trust said their live feed of the birds on Derby Cathedral had proved "hugely popular".