Coventry Motofest ring road races scrapped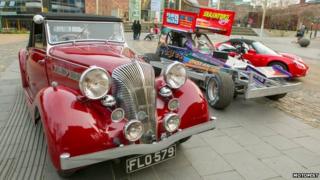 Plans to stage races on Coventry's notorious ring road have been scrapped after legislation to allow them was not passed in time.
Organisers Motofest had planned to make the city first in the country to hold races under the new laws.
It was hoped competitive time trials would form part of a motoring festival scheduled for 29-31 May.
But the Department for Transport (DFT) said it "never anticipated" necessary legislation to be enacted in time.
While an initial bill has been passed by government, secondary legislation is still required.
Race Director Darren Langeveld said it was unlikely to be in place in time for planned time trials.
In a statement, the DFT said the legislation would be "taken forward in due course".
The Motofest transport festival will still see sections of Coventry's ring road temporarily closed to allow a sprint circuit to be set up, among other events planned for the weekend.
'Wheel-to-wheel racing'
"Everything's going ahead as it was, we're just not going to time it. It can't be competitive," Mr Langeveld said.
"The beauty of creating a sprint circuit is the overall average speed is probably going to be around 40mph, so the cars aren't legally going to be able to get in excess of speed limits."
British Touring Car Championship and Renault Clio Cup cars are expected to be among hundreds taking part, which event director James Noble said would still create an "exciting and thrilling spectacle".
Original plans for time trials followed proposals by the previous government to devolve powers to local authorities.
In normal circumstances, racing on public roads is illegal and an act of parliament is required for races to go ahead.
Some 9,000 motorsport events take place across the country, according to the DFT, although most are at purpose-built venues.
Motofest organisers have previously said races could attract 100,000 visitors and were "good for the economy". They said their ultimate aim was to see "wheel-to-wheel racing" in Coventry.