Coventry pupils at home over 'classroom block closure'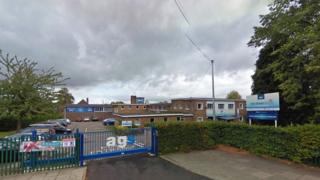 Three hundred and forty pupils are being kept off school in Coventry over fears part of their building is structurally unsafe.
Ten classrooms at Ash Green School are affected and the school does not have enough space, so has asked year eight and nine pupils to stay away.
It said it would have a structural engineer on site on Wednesday morning.
The school said it would like to reassure parents and carers it was "safe" for pupils still attending.
Read more news for Coventry and Warwickshire
Its website said: "As a precautionary measure, we have closed off the classroom block concerned and fenced off the area outside the vicinity while a structural survey is completed."
Earlier, principal David Powell said "it was clear there had been some slight movement in the building".
Mr Powell said hopefully within two days the school would know if the building could be repaired, was safe to go back in to - or whether "temporary classroom accommodation" was needed.
Asked about any parents who have to take time off to be with children, he said: "I do apologise to them for it.
"But it's out of our hands at the moment."
The school said teachers were setting work for years eight and nine and asked students, parents and carers to check via its website.