Kingsbury Water Park gnome village 'massacred' by vandals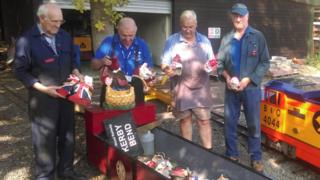 Vandals broke into a miniature railway and "massacred" dozens of its trademark gnomes.
More than 40 of the figurines were smashed and strewn across the track at Echills Wood Railway in Warwickshire.
The "gnome village" is a centrepiece of the family attraction, which is part of Kingsbury Water Park.
Dozens of people who were moved by the story have offered to donate replacements after staff at the park shared the news on Facebook.
A post about the attack - showing a picture of the damage - has been seen by thousands of people and shared hundreds of times online.
Signs and a crocodile head were also damaged when the attraction was targeted on Saturday.
Staff at the park said the response from the public to news of the "massacre" had been overwhelming.
"It's been quite profound. Who knew gnomes could be so emotive?" said Kingsbury Water Park countryside ranger Rachel Hextall.
Helen Perkins posted: "Oh no my two children love the gnome village. What the hell is wrong with some people????!!! This makes me so cross. Next time we come we will be sure to donate a gnome xxxx."
And Faye Nethercot added: "Vile, vicious vandals! So so upsetting. I hope you're able together with the generosity of the public to replenish and remake a beaut lil (sic) gnome village once more."
Warwickshire Police said it received a report of criminal damage being caused to signs, steelworks and a "significant number of ornamental gnomes".
It said the incident was believed to have happened between 21:00 BST on 8 September and 09:00 on 9 September, when an unknown offender or offenders gained access to the site.