Michelin-starred Cross at Kenilworth restaurant rated poor for hygiene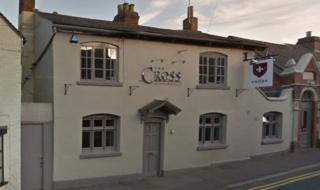 A Michelin-starred restaurant has been given a one-star rating by food inspectors for its hygiene standards.
The Cross at Kenilworth was told it must make major improvements during an inspection in January.
Inspector Stuart Murrow said The Cross was vacuum packing raw and "ready-to-eat" foods with the same machine, risking contamination, and some kitchen staff were not trained in food hygiene.
The Warwickshire restaurant said it took the issue "extremely seriously".
'Spread of bacteria'
During the inspection, which was carried out by Warwick District Council on January 27, Mr Murrow said one of the restaurant's vacuum packers had broken and the other one was being used for raw and "ready-to-eat" foods.
He said staff had "failed to appreciate the hazard and control measures associated with E. coli."
---
'Prime seasonal ingredients'
The Cross at Kenilworth is Warwickshire's only Michelin-starred restaurant
The Michelin guide praises it as a "smartly-furnished pub with eager, welcoming staff"
It says it practises "skilfully-executed, classical cooking uses prime seasonal ingredients".
---
Other issues he noted were that food was not being kept at a temperature that would minimise the spread of bacteria and an ice bucket was being stored by the U-bend of a sink, while a tea towel was found beneath the bins.
The restaurant said it wanted to reassure diners that it took health, safety and hygiene seriously and that, prior to the inspection, it had a four-star rating.
"Little has changed in the set-up or personnel," it said in a statement.
"One of our vacuum packing machines was broken... we implemented controls to protect customers but the inspector marked us down for the issue.
"We have [completed] all recommendations and are looking to reapply for a further revisit in the future.
"We have absolute confidence that we have always operated at the high standards expected of an award-winning establishment."